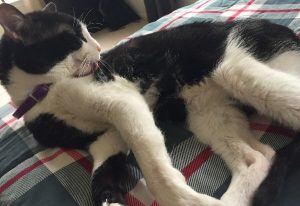 Alfred the Cat
Age: 13
Fixed (Spayed/Neutered)? Yes
Declawed? Yes
Weight: 11 lbs
Indoor? No
Microchipped? Yes
City in which animal is located: Ann Arbor
Rehoming fee? No
Alfred is a spry, handsome and independent cat. He currently lives in a medium-home: not too quiet, not too busy; but likely wouldn't mind a quieter or busier home. He's very good with, and affectionate towards all humans (little and big, even if you've just met him), but not the biggest fan of dogs or other cats. He does prefer to have all your attention as the sole animal in a household.
Alfred is low-maintenance and respectful of the home he's in. He doesn't knock things off tables, doesn't climb up on counters if you tell him "no" a couple of times, and does not claw/scratch any furniture or carpet. The ideal home for him would be somewhere he can be his best indoor/outdoor cat-self. Once he knows the area, Alfred likes to be able to go out and explore for several hours each day, but will come home on his own (he will meow at the door to let you know he's home!) and curl up in your lap or his bed. He's not a fussy eater, walks like a champ on a leash (you read that right!), absolutely loves chin and neck scratches, and has the softest fur! He's in the habit of stealing the heart of most everyone he meets.
If your home and neighborhood are setup to allow a cat to explore the area, Alfred might just be the right companion for you! We are happy to provide you with everything he needs to make the transition to living with you (his two current beds, favorite blanket, toys, litter box, leftover litter and food). Feel free to reach out with any questions.
If you are interested in adopting Alfred, please contact Sanjna at 734-881-4218 or [email protected]