Outpatient Veterinarian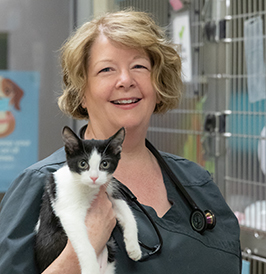 Companion Animals – Michigan State University

Dr. Jennifer Wells earned a degree in microbiology from Eastern Michigan University and was awarded her veterinary degree by Michigan State University College of Veterinary Medicine.  Dr. Wells practices integrative medicine and is a Certified Veterinary Acupuncturist, having studied at Chi University in Reddick, FL. Additionally, she received advanced surgical training in High Quality/High Volume Spay/Neuter techniques by the Humane Alliance in Asheville, NC.
She has enjoyed a diverse veterinary career which has included traditional clinical positions, relief work, and instruction of veterinary technology students.  She is passionate about using her veterinary training in underserved areas of the world and has volunteered in Haiti, Honduras, Nicaragua, post-Katrina Louisiana and Mississippi, and along the Iditarod trail in Alaska.
When not in the clinic, she enjoys gardening, quilting, volunteerism, performing music, and managing a household of two- and four-legged companions.