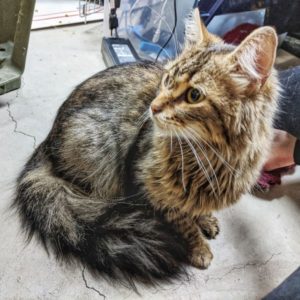 Maeve the Cat
Age: 9 months – 1 year
Fixed (Spayed/Neutered)? Yes
Declawed? No
Weight: 7 lbs
Indoor? Yes
Microchipped? No
City in which animal is located: Milan
Rehoming fee? No
Lady Maeve has gotten tired of challenging Queen Mab and is looking for a new realm to rule over. All peasants must submit to the Winter Lady's rule, and lavish gifts, particularly in the form of food, may be rewarded with one, possibly two head pets.
Seriously though, Miss Meave is very sweet and inquisitive, but she is definitely a queen. She loves high places to perch and lord over others. She loves playing with crinkly toys – balled up pieces of paper are her favorite. She likes people, but doesn't like to be touched, though I believe that may change over time. We've been working on getting her used to contact and we're seeing some progress. She may be best in a house with no other cats, though I think she could adjust to a cat who is okay with her being in charge, provided the new owner has the patience to introduce them slowly. Due to her resistance to being touched, I'm looking for a home with no small children. I'm also currently only considering 100% indoor homes.
Note: E-mail is preferred. I have a call screener that may block or send your call to voicemail.
If you are interested in adopting Maeve, please contact Laura at 734-395-7762 or marsh.laura.e@gmail.com.