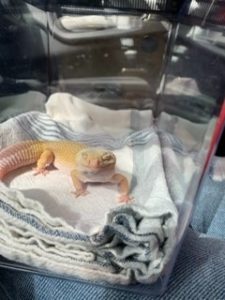 Jasper the Reptile
Age: 3 years
City in which animal is located: Galveston
Rehoming fee? Yes
Please note: This is a courtesy listing on HSHV's site. This animal is available through a private individual, NOT HSHV. For questions, please contact the individual below, not HSHV. Thank you!
I have a really sweet adult female leopard gecko who needs a new home. She's very sweet and social. She comes with everything you will need. Her 20 gallon tank has a hanging light fixture, heating pads, thermometers, reptile carpet, dishes, and hides. I also have two extra hides for her, extra moss, food/water for her crickets, and extra dish, vitamins, and a cage cleaner. I have a plastic bin I use to keep her crickets in because I buy them in bulk, but I also have a smaller cricket keeper as well. She will eat other insects too. She just needs a good home. Text me 409-457-1307 if you are interested or have questions. I can send pictures of all her supplies too.
If you are interested in adopting Jasper, please contact Kiera at 409-457-1307 or kiera@larsonkids.com. This animal is listed as a courtesy on our site, but is available through this individual. For questions, please contact the individual listed, not HSHV. Thank you!