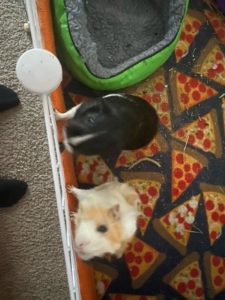 Lloyd and Mary the Guinea Pigs
Age: Lloyd is 2 and Mary is 1
Fixed (Spayed/Neutered)? No
City in which animal is located: Van Buren Township
Rehoming fee? No
Please note: This is a courtesy listing on HSHV's site. This animal is available through a private individual, NOT HSHV. For questions, please contact the individual below, not HSHV. Thank you!
Lloyd and Mary are both female guinea pigs that love human interaction. They would be good in any home. They love to play and run around their cage doing laps. They are very smart and will squeak at me when I wake up in the morning to remind me to feed them. They do not bite at all. Their cage comes with them and it is a C&C style cage that can be designed to just about anything. It has custom made covers for the cage which are machine washable. They also come with a bunch of toys, water bottle, sleeping bags (their favorites) and food and snacks.
If you are interested in adopting Lloyd and Mary, please contact Dave at 734-233-0832 or daveh79@comcast.net. This animal is listed as a courtesy on our site, but is available through this individual. For questions, please contact the individual listed, not HSHV. Thank you!