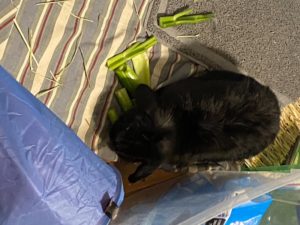 Pepper the Bunny Rabbit
Age: 1.5 years
Fixed (Spayed/Neutered)? No
Indoor? Yes
Microchipped? No
City in which animal is located: Ypsilanti
Rehoming fee? No
Currently Pepper lives in a busy home, with quite a bit of 11-12 year-olds that like to take a peek at her. She's currently in a 4ft. Cage, we keep the door open so she can hop in and out. There's a large sheet on the ground for her to come out on and she has an igloo that she likes to nap in. She mainly eats hay but 4-5 times a day we give her green vegetables like Romaine, Red Leaf, and green leaf lettuce, cilantro, bokchoy, or celery.
If you are interested in adopting Pepper, please contact LaKetra at 734-682-2998, 734-787-3746 or laketraholland@gmail.com.