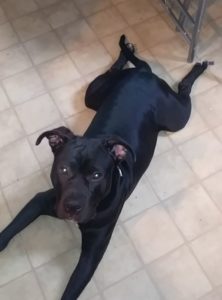 King the Dog
Age: 10 mo
Fixed (Spayed/Neutered)? No
Weight: 60 lbs
Indoor? Yes
Microchipped? No
City in which animal is located: Ypsilanti
Rehoming fee? No
Please note: This is a courtesy listing on HSHV's site. This animal is available through a private individual, NOT HSHV. For questions, please contact the individual below, not HSHV. Thank you!
We want to find him a forever home. We do not want to let him go but due to issues with pet policies where we live we can't keep him, and I am not in a situation to move right now. He is our baby we just want him to find a loving family. He is great with kids. He is also potty trained. We really haven't had him with others dogs unless we are on a walk. I wish he had doggy friends. He is very loved & cared for, I just want him to have the best. He deserves so much love.
If you are interested in adopting King, please contact Spechall at 517-528-2793 or tspechall@gmail.com. This animal is listed as a courtesy on our site, but is available through this individual. For questions, please contact the individual listed, not HSHV. Thank you!