Phoenix Lee the Dog
Age: 2 years
Fixed (Spayed/Neutered)? Yes
Weight: 60 lbs
Indoor? Yes
Microchipped? Yes
City in which animal is located: Chelsea
Rehoming fee? Yes
Please note: This is a courtesy listing on HSHV's site. This animal is available through a private individual, NOT HSHV. For questions, please contact the individual below, not HSHV. Thank you!
Phoenix is a very active, curious dog. He loves to go for long hikes where he can explore every scent, sight, and sound. He also enjoys splashing around in the creek by our house or cooling off in the pond. Phoenix is very responsive to training and knows some voice and hand commands. He would benefit from more leash work but does well walking with a front clip harness. Phoenix's favorite spot to sleep is snuggled up next to you under the blanket or resting his head by yours on the pillow. As loving as Phoenix is, he only appreciates being shown attention when he asks for it. For this reason, he cannot be in a home with kids. As much as I have tried to help my kids understand this, my 12 and 14-year-old still forget sometimes and receive a warning growl. Phoenix is also wary of strangers and lets us know when someone is at the house. He lives with a senior dog, whom he wishes would play with him, and a cat who seems to make him a little nervous. The ideal home for Phoenix would be in a rural area where he can get exercise to his heart's content. Having a doggy friend to play with would make it even better!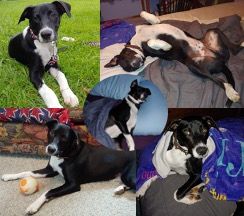 https://www.hshv.org/wp-content/uploads/formidable/105/Phoenix-Collage.jpg
If you are interested in adopting Phoenix Lee, please contact Karen at (517) 899-1312, (734) 475-3230, or janama.mom@gmail.com. This animal is listed as a courtesy on our site, but is available through this individual. For questions, please contact the individual listed, not HSHV. Thank you!