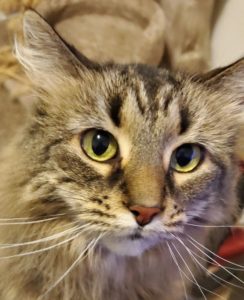 Kyra the Cat
Age: 8
Fixed (Spayed/Neutered)? Yes
Declawed? No
Weight: 9 lbs
Indoor? Yes
Microchipped? No
City in which animal is located: FOWLERVILLE
Rehoming fee? No
Kyra is a very sweet cat. Affectionate, playful, loving and not shy about meeting new people. Kyra only scratches on her tower or posts, not one time has she scratched furniture or drywall. Never has she pooped out of the liter box. She only wants to eat her dry food, never begs or wants anything else. Kyra doesn't climb on the counter or in the Christmas tree. She loves anything on a stick and loves to play. Kyra is very loving and generous with her love. She has a soft purr and loves to sit on your lap and be massaged.
Kyra doe not like my wife's cat Lily. Before my marriage and then moving in together Kyra never once urinated outside of the liter box. At this time I have a spare bedroom I lock her in at night and let her out when one of us is home. I don't feel this is fair. I'd like to see here with a loving family where she doesn't have to be locked top one room all day.
I feel very heartbroken about having to rehome my cat. I wish I didn't have to but it's been seven years and there is no sign of change. We have tried many resolutions. Some work longer than others but all eventually fail. Kyra would be best in a home without other cats. She seems fine with children. She has never seen a dog so I am not sure how that would work out. We've taken her to the vet and they say there isn't much they can do, the 2 cats just don't like each other.
If you are interested in adopting Kyra, please contact Thomas at 248-346-7473 or DEAMONKINN@GMAIL.COM.