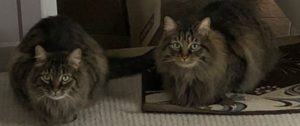 Sebastian and Luca the Cats
Age: 4.5 years
Fixed (Spayed/Neutered)? Yes
Declawed? No
Weight: 10 lbs
Indoor? Yes
Microchipped? Not known
City in which animal is located: Trenton
Rehoming fee? Yes
These two cats are both males from same litter. They were brought into the home as kittens. They are both very lovable and love to be on your lap. They enjoy being brushed and will often run to you to be brushed if you sit on the floor with a brush. They are a little wiggly while their nails are being clipped I recommend an extra pair of hands, however I've learned that if you brush them at the same time they relax a little more. These guys are shy and will warm up to you. That being said I recommend a quite home. Their personalities would shine brighter if they were the only pets. There is a large cat tree that they like that can go with them. They like scratching posts.
If you are interested in adopting Sebastian and Luca, please contact Christopher at (734)377-7153, (733)377-8931, or chris@kingspride.org.