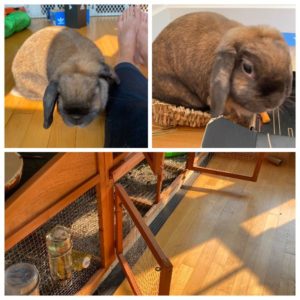 Cocoa the Bunny
Age: 8/9
Fixed (Spayed/Neutered)? Not known
Weight: 5 lbs
Indoor? Yes
City in which animal is located: Ann Arbor
Rehoming fee? No
Please note: This is a courtesy listing on HSHV's site. This animal is available through a private individual, NOT HSHV. For questions, please contact the individual below, not HSHV. Thank you!
We bought her through a very reputable AA pet store so there is a very good chance she is spayed (if that is normal for bunnies) but I honestly don't know how to figure that out? She is very healthy and likes to be around people. She rarely thumps but probably would thump occasionally for a bit in a new environment but often that just means she wants attention (or treats). She is suuuuuper soft and always comes out to greet us when we come near her house (the house comes with her if you want it) to say hi and sniff/nibble (cute nibble, not hurt nibble) and play/run around. She likes to be petted. She has a big wooden home that is hers and all of her belongings will go to her new home if they want them.
She lives in her big house but we don't close the doors. Instead we have a very long plastic gate that blocks off the room her house is in so she can run freely in that room. She loves cardboard boxes, paper towel rolls, and other inexpensive things to chew/nibble and play with so we just leave them on the floor near her house. All things that she has now are welcome to go with her.
Care includes weekly changing of her litterbox, a handful of pellets in a bowl in the morning and fresh produce (a few leaves of lettuce and a small piece of apple) at night. I also hide treats around her room at night so she has something to do and is happy. Water is a must but we have two bottles that hang on her cage and I change when they need it.
She's easy and loves attention. She does molt (full shed) but there is no real timeline to her molting and she hasn't molted in way over a year (little shedding constantly is normal).
She would make a wonderful pet for a family with young kids that know how to be gentle. It's an easy pet for family travel (she comes with a rotating feeder) because you just need someone to check in and give her occasional produce. If you want to chat or come meet her, just give us a call.
If you are interested in adopting Cocoa, please contact Nancy at 734-730-4726 or nkelley66@gmail.com. This animal is listed as a courtesy on our site, but is available through this individual. For questions, please contact the individual listed, not HSHV. Thank you!