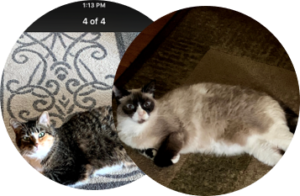 Bella (dark), Q (lighter) the Cats
Age: 8 years
Fixed (Spayed/Neutered)? Yes
Declawed? Yes
Indoor? Yes
Microchipped? No
City in which animal is located: Livonia
Rehoming fee? No
Home is quiet, usually work outside of home Monday-Friday but since March we have been working from home. They come from the same litter and have been together since day one. They had a doggie friend for about 1 year which was okay with them, but they prefer human friends.
If you are interested in adopting Bella and Q, please contact Beverly0 at 313-805-8852 or beverlytubbs66@yahoo.com.