Levi the Cat
Indoor? Yes
City in which animal is located: Canton
Please note: This is a courtesy listing on HSHV's site. This animal is available through a private individual, NOT HSHV. For questions, please contact the individual below, not HSHV. Thank you!
Name: Levi
Birthdate: May 31st, 2009 (12 years old)
Has Resided with same family since 3 months old?: Yes
Breed: American Shorthair
Color: Silvery Gray Tiger Kitty (shorthair tabbie)
Cat neutered already?: YesWeight: 13.5 lbs
Cat has Microchip?: Yes
Cat still has his claws in?: Yes
Immunizations Current?: No but he is very healthy and active
Cost to Adopt: $0 – We just want to find him a new great home and family to love him 😊
Contact if Interested: Call or Text Kelly at 734-945-9325 (Please state how you found out about Levi)
Levi is 12 ½ years old, but is very healthy. Levi loves to be around people, loves to be held, pet, and he loves to cuddle and purr. He might be timid when new people come in the house, but if the environment is calm, he will come out to meet the new people.
We purchased him from a rescue organization that was at the Bark in the Park event in 2009 in Canton, MI at the Heritage Park, and he has been with us since then (we adopted him at the age of 10 weeks old).
Levi will come with his pet bowls, pet food, brush, nail clipper, brand new unused litter box, and brand new package of kitty litter.
Levi gets 1/5 of a can of canned food for breakfast and dinner, and small scoops of crunchy food given fresh throughout the day. (***Special Note: Levi had surgery to unblock his urinary tract 5 years ago, so he requires Prescription Cat food only for the rest of his life, and the food costs $57.99 for a set of 24 cans (5.5 oz per can) which lasts for several months, and the dry food costs $84.99 for a 17.6 LB bag, which lasts for several months, from the Chewy.com website, and both require proof of RX from a Vet.)
Levi likes to sleep in a cat bed on the laundry table in the basement, and he remains quiet and calm the entire night. Levi likes to be let outside for short periods of time to sun himself on the back deck, or explore the back yard; he never leaves the house area, and comes back shortly after.
Levi only meows when he needs food, fresh water, or to be let out the back door to sun himself on the back deck. Otherwise, he is not very vocal.
Levi would make a great pet for families with children that want to have a cat that likes to cuddle with kids and adults. We joke that Levi is more like a puppy sometimes, since he seeks out people and likes to sit on their laps and be with the family.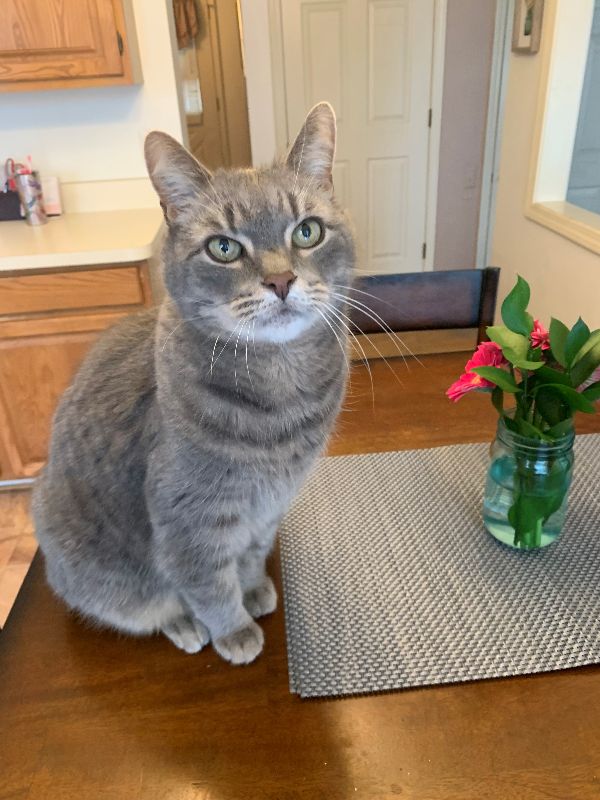 https://www.hshv.org/wp-content/uploads/formidable/105/Levi-the-Cat.jpg
If you are interested in adopting Levi, please contact Kelly at 734-945-9325 or kelly_936@yahoo.com. This animal is listed as a courtesy on our site, but is available through this individual. For questions, please contact the individual listed, not HSHV. Thank you!