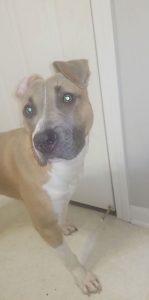 Blu the Dog
Age: 2years 7 months
Fixed (Spayed/Neutered)? No
Declawed? Not Applicable
Weight: 40 lbs
Indoor? Yes
Microchipped? No
City in which animal is located: Ypsilanti
Rehoming fee? No
She is protective. Her home is quiet. She plays with other animals. She is very loving, and she loves to cuddle and sleep with you. Follows me all the time. She listens most of the time.
If you are interested in adopting Blu, please contact Kaila at 24-8470-2236 or kailawadsworth97@gmail.com.