Maizie the Dog
Age: 15 Months
Fixed (Spayed/Neutered)? Yes
Weight: 48 lbs
Indoor? Yes
Microchipped? Yes
City in which animal is located: Canton
Rehoming fee? Yes
Please note: This is a courtesy listing on HSHV's site. This animal is available through a private individual, NOT HSHV. For questions, please contact the individual below, not HSHV. Thank you!
I've had many dogs in my life, and I can confidently say Maizie is the most playful and loving of the bunch. She is full of energy and has an incredible heart. She is very affectionate, and highly intelligent. She picks up tricks and commands very quickly, and in the right hands will grow into an amazing dog. She does not chew things she isn't supposed to, and has only needed to be corrected once to know what she is and isn't allowed to chew. She does well with kids and other dogs that she has been introduced to. She is responsive to corrections from other dogs. She has all of her shots, negative fecal, and is completely healthy.
Please know that she is very reactive towards some dogs she hasn't met/can't get to (through a fence/car window/on a leash). This is an incredibly heart-rending and difficult decision, but I am coming to the conclusion that I am not the right human for Maizie. I lack the patience or the calmness in intense situations to help her grow into the dog I know she is capable of being.
Rehoming will include:
Kennel and 2x Dog beds
One month of food and bowls/treats. 5 months of flea/heartworm/tick. One month of Trazadone 100mg
Two leashes, easy walk harness, gentle leader harness, dog potty bell, training pouch.
Lots of toys and a flirt pole she absolutely loves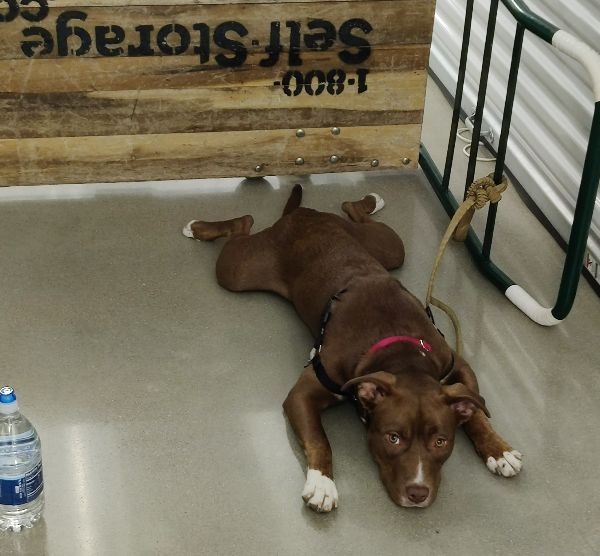 https://www.hshv.org/wp-content/uploads/formidable/105/IMG_20220522_141556.jpg
If you are interested in adopting Maizie, please contact Michael at 734-707-5506 or michael.j.dooley90@gmail.com. This animal is listed as a courtesy on our site, but is available through this individual. For questions, please contact the individual listed, not HSHV. Thank you!