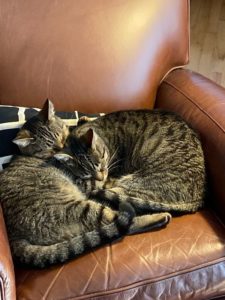 Charlie and Willy the Cats
Age: both are 3 years, 9 months
Fixed (Spayed/Neutered)? Yes
Declawed? No
Weight: 14 lbs
Indoor? Yes
Microchipped? No
City in which animal is located: Ann Arbor
Rehoming fee? No
The boys, Charlie and Willy, have lived alone with me since I adopted them as kittens from HSHV 3.5 years ago. They're very loving with each other, often cuddling together and grooming each other. Charlie is very loving with other people, while Willy is socially reticent (although very sweet-tempered as well).
Both cats have a very sweet and loving personality, and appreciate human company and cuddling/attention. That said, they're very independent and good at keeping each other company when I'm away (which, until COVID, was 10+ hours a day).
If you are interested in adopting Charlie and Willy, please contact Jim at 734-223-8300 or jimprice@umich.edu.