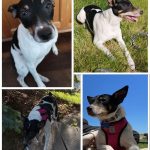 Loyal loving dog needs a new home
Thor the Dog
Age: 7
Fixed (Spayed/Neutered)? Yes
Declawed? Not Applicable
Weight: 16 lbs
Indoor? Yes
Microchipped? Not known
City in which animal is located: Ann Arbor
Rehoming fee? No
Please note: This is a courtesy listing on HSHV's site. This animal is available through a private individual, NOT HSHV. For questions, please contact the individual below, not HSHV. Thank you!
Thor is an adorable people's favorite who is loyal from the moment he's given the love he deserves. He prefers to be the only animal and baby in the house. He currently lives in a quiet home with no animals or children. Thor is a very playful and active dog that would be best rehomed with someone who also likes to be active or has a yard for him to run laps around in. Thor's high energy can mean that he feels anxious when left in his cage for too long and in areas of high activity around a lot of people. He is very sweet if given the time needed for this high-energy dog.
If you are interested in adopting Thor, please contact Alexandrea  at 734-450-2842 or axpang17@gmail.com. This animal is listed as a courtesy on our site, but is available through this individual. For questions, please contact the individual listed, not HSHV. Thank you!