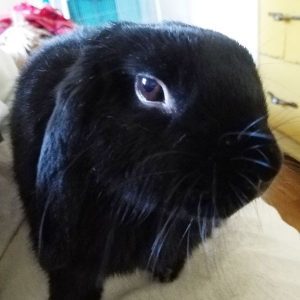 Mabel the Rabbit
Age: 3 years
Fixed (Spayed/Neutered)? Yes
Weight: 4 lbs
Indoor? Yes
Microchipped? No
City in which animal is located: Grand Rapids
Rehoming fee? No
She free roams in my bedroom during the day and is in an x-pen at night. She is very social, super loving, and very curious. She greets me at my feet every time I see her. She is fearless and is used to being around a Yorkie. It would be amazing if she could bond with another rabbit. She needs to go to a cage-free home that will let her roam free.
If you are interested in adopting Mabel, please contact Shannon  at 616-802-4057 or shannonacles@gmail.com.