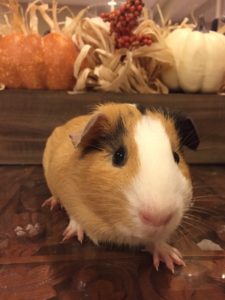 Pumpkin the Guinea Pig
Age: 3
Fixed (Spayed/Neutered)? No
Indoor? Yes
Microchipped? No
City in which animal is located: Canton
Rehoming fee? No
Pumpkin is about 3 years old. He loves floor time, eating, and playing with his chew toys! He has always been a little skittish when handled, but warms up once he feels safe. He previously lived with another male guinea pig who passed away. Cage and accessories will be given at no extra cost. I am looking for a safe and happy home for him.
If you are interested in adopting Pumpkin, please contact Danielle at 734-377-7326, 734-560-1767, or winslowdanielle@yahoo.com.