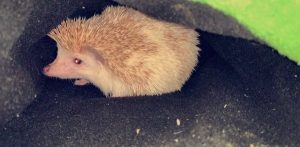 Cosmo the Hedgehog
Age: 10 months
Fixed (Spayed/Neutered)? No
Declawed? No
Weight: 0.5 lbs
Indoor? Yes
Microchipped? No
City in which animal is located: Ypsilanti
Rehoming fee? Yes
Cosmo is a nocturnal animal. His birthday is July 29, 2019. He is active at night and asleep during the day. He requires complete darkness at night or he will not come out (not even tv light). Noise does not bother him. He has a cage, hide, bedding, and a wheel. His cage is around 4 by 2 feet, so you will need space for it. He also has two heat lamps. Depending on the temperature of the room he is in, he may only need one. He must be kept at 75-82 degrees Fahrenheit or he will go into false hibernation which can be fatal. I leave one heat lamp plugged up and he is just fine. I also have thermometers that tell you the temperature of his cage. He is not a lot of work. He is tame and socialized. I prefer he go to a home with someone who has experience or has done extensive research on hedgehogs. Cosmo has quills on his back and fur on his belly. QUILLS ARE NOT SOFT and can be PAINFUL if he is frightened and decides to go into a ball. You should never hold him with gloves because it frightens him. If you spend at least an hour a day holding him or having him on your lap he will lay his quills down and be comfortable with you. Please do not show interest if you are afraid of him. Hedgehogs are prey animals and both of you being afraid isn't good for anyone.
If you are interested in adopting Cosmo, please contact Tia at 734-627-3299.