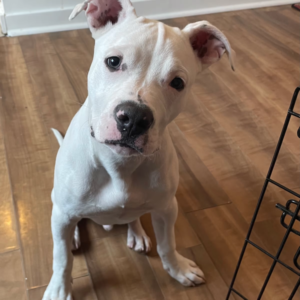 Mason the Dog
Age: 8 months
Fixed (Spayed/Neutered)? No
Weight: 40 lbs
Indoor? Yes
Microchipped? No
City in which animal is located: Kalamazoo
Rehoming fee? No
Please note: This is a courtesy listing on HSHV's site. This animal is available through a private individual, NOT HSHV. For questions, please contact the individual below, not HSHV. Thank you!
Mason was born on March 16th 2021, and taken from his mother too early. I believe this caused a lot of emotional and behavioral issues. Mason bites a lot (trying to play) and wines often. He also nurses on blankets and will leave them feeling very damp. He does bad with bathing and will try to nip when washing his back legs. Over the summer Mason had a few allergic reactions. Its believed he's allergic to mosquitoes. Mason will swell up from allergic reactions and need Benadryl on hand. I don't think Mason is a good match with young children. Mason has been in dog daycares and been socialized with other dogs but continues to be very timid in initial meeting. Mason loves to run and play outside but also loves to cuddle up with you at night. Mason truly is a sweet boy, that needs lots of love, attention, and patience. He truly will become someone's best friend if given the chance.
If you are interested in adopting Mason, please contact Jada at 269-355-3448 or jada.allen.m@gmail.com. This animal is listed as a courtesy on our site, but is available through this individual. For questions, please contact the individual listed, not HSHV. Thank you!