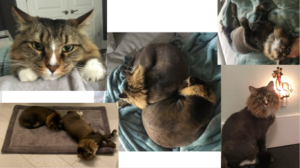 Maxwell and Winifred the Cats
Age: 6
Fixed (Spayed/Neutered)? Yes
Declawed? No
Indoor? Yes
Microchipped? Yes
City in which animal is located: Plymouth
Rehoming fee? No
They are both healthy and happy, fixed, vaccinated, friendly and fun. Maxwell is a chunky fella at 15 lbs, but he still can zoom like crazy and will show you his moves a few times a week. He is a lot like a dog (but goes potty in a litter box and doesn't need walks). Max LOVES to sit in your lap and he is an avid birdwatcher. Sister Winnie is a lazy gal who naps often and really appreciates a soft blanket for those naps. She is reported to snore softly in a very cute manner. These cuties are unhappy with the situation (and there will likely be more human babies added to this family), so looking for a loving home that will take both Max and Winnie.
They're really easy cats, but they are scared of little kids. The ideal home would be one of adults or older kids. We will really miss them; but we know they aren't happy right now so we're trying to find them a better situation.
If you are interested in adopting Max and Winnie, please contact Chelsea at 734-807-0038 or chelseaewolcott@gmail.com.