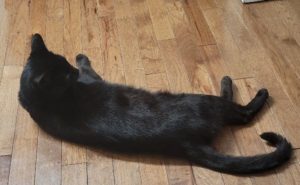 Maximo Jr. the Cat
Age: 1 year 10 months
Fixed (Spayed/Neutered)? Yes
Declawed? No
Indoor? Yes
Microchipped? No
City in which animal is located: Milan
Rehoming fee? No
Maximo Jr. is an indoor/outdoor cat. He's very energetic around other cats but aggressive towards his siblings. (Which is why you cannot adopt him with his sibling together.) He gets along well with other cats and humans. However, please be gentle with him and do not pick him up. (That doesn't mean you get to kick him around or push him.) He's very friendly and would very much appreciate having the freedom to go outside and be indoors. He mostly sleeps on the couch. He loves to be energetic so play with him if you don't have a cat playmate for him. Do not have dogs around him. He is not used to being around dogs. He might become a little too playful and pounce on your cats. He's just playfighting so don't worry. If he hisses then that obviously means separate the cats. Oh and FYI all my cats are NOT declawed and it should stay that way.
If you are interested in adopting Maximo Jr., please contact Tayjiri at 734-621-3781 or kitcattaco@gmail.com.