Lil G the Cat
Age: 7
Fixed (Spayed/Neutered)? Yes
Declawed? No
Weight: 10 lbs
Indoor? Yes
Microchipped? Not known
City in which animal is located: Ypsilanti
Rehoming fee? No
Please note: This is a courtesy listing on HSHV's site. This animal is available through a private individual, NOT HSHV. For questions, please contact the individual below, not HSHV. Thank you!
Lil G is a healthy, sweet, tawny-colored cat: a major cuddler. He is cat, dog, and child friendly. His favorite place to be is YOU—your lap, your feet, your back….
G is healthy and has always received regular veterinary care (at City Pets, Ann Arbor). However, he is occasionally prone to urinary infections—particularly if he's stressed out—which makes him picky about his litter box. Because of his tendency toward urinary troubles, we feed him prescription food. This may not be necessary forever (especially if he is happy and not experiencing stress), but we will happily provide two full bags of prescription food, which should last quite a while and give plenty of time to transfer the prescription information over.
When the litter box is well-managed, he thrives in health and in disposition.
You will not find a sweeter animal, and he needs a home where his caregivers have the energy and time to care for him well, so that he can stay healthy and happy.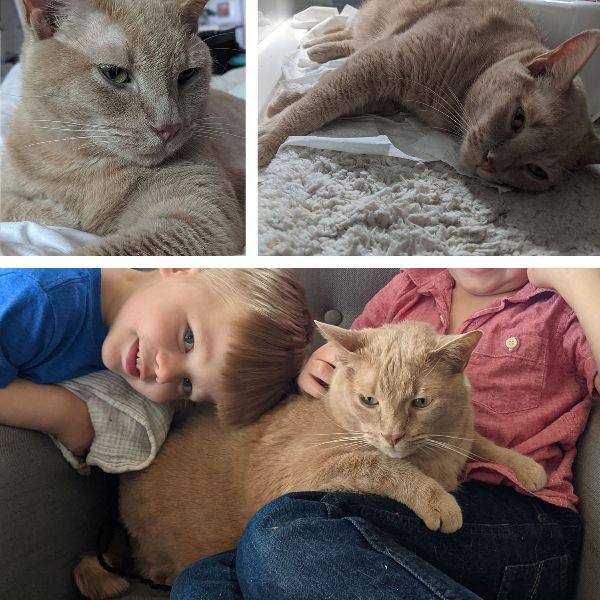 https://www.hshv.org/wp-content/uploads/formidable/105/collage-1.jpg
If you are interested in adopting Lil G, please contact Betsy at 269-487-6971 or elleking2@gmail.com. This animal is listed as a courtesy on our site, but is available through this individual. For questions, please contact the individual listed, not HSHV. Thank you!