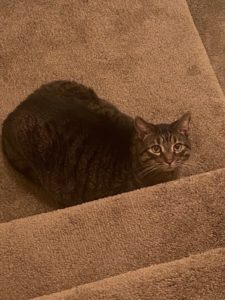 Mittens the Cat
Age: 6
Fixed (Spayed/Neutered)? Yes
Declawed? No
Weight: 18 lbs
Indoor? Yes
Microchipped? Yes
City in which animal is located: Ann Arbor
Rehoming fee? No
Please note: This is a courtesy listing on HSHV's site. This animal is available through a private individual, NOT HSHV. For questions, please contact the individual below, not HSHV. Thank you!
Mittens shares a home with a chihuahua and he ignores her. Other animals don't bother him as long as they leave him alone. He's a cuddler and does well with children. He will lay with you and lick you if he likes you. I have an 8 year old and there have been no problems. In the last 5 years he has been a quiet, chill cat. He's an indoor cat and will not run away. He's a little chunky so he's on a rationed diet. I will provide a bag of food, his blanket, a box (he loves boxes), food and water bowls and a couple toys that he likes.
If you are interested in adopting Mittens, please contact Janine at 248-736-3881, 248-818-9460 or janineharp@yahoo.com. This animal is listed as a courtesy on our site, but is available through this individual. For questions, please contact the individual listed, not HSHV. Thank you!