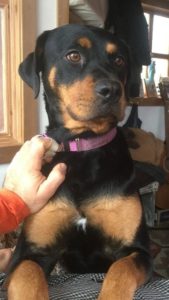 Mona the Dog
Age: 2
Fixed (Spayed/Neutered)? Yes
Weight: 75 lbs
Indoor? Yes
Microchipped? Yes
City in which animal is located: Ann Arbor
Rehoming fee? No
Mona is a very sweet pup! She currently lives in a somewhat crowded house with no other animals. Being in the heart of Ann Arbor can be a bit too much stimulation for her, so she'd appreciate a house with a fenced yard to get some of her energy out. She plays well with other dogs she knows, but takes some warming up to new friends, and is reactive to strangers and strange dogs when she's leashed. She's a very smart girl, and eager to please. She's housebroken and follows basic commands, and loves to earn treats. She has mixed experience with cats; she'll chase them if they run, but she's good friends with at least one kitty who stands his ground. Mona is a funny, inquisitive, loyal companion who LOVES to play, and she'd love to meet you–you'll both fall in love.
If you are interested in adopting Mona, please contact Noah at 510-292-0051 or revoldrd@gmail.com.