Daxter the Cat
Age: 6?
Fixed (Spayed/Neutered)? No
Declawed? No
Weight: 7 lbs
Indoor? Yes
Microchipped? Not known
City in which animal is located: Ypsilanti
Rehoming fee? No
Please note: This is a courtesy listing on HSHV's site. This animal is available through a private individual, NOT HSHV. For questions, please contact the individual below, not HSHV. Thank you!
His name is Daxter,
he is a male Orange Tabby.
I don't know his actual age, If I had to guess it's in between 4-7 years old. Somewhere between his Prime and Mature years.
I've had him for a year now, found him outside eating pizza. He is the sweetest cat you'll ever meet. Social butterfly, loves all humans and cats alike.
(Although threatened by dogs)
Very playful, wants pets and cuddles 24/7. He's very vocal and persistent, so you'll need to have the mental and emotional availability to accommodate his needs.
He is not neutered.
Occasional issues with peeing if not attended to.
But a 9/10 cat! Fantastic guy. Definitely recommend!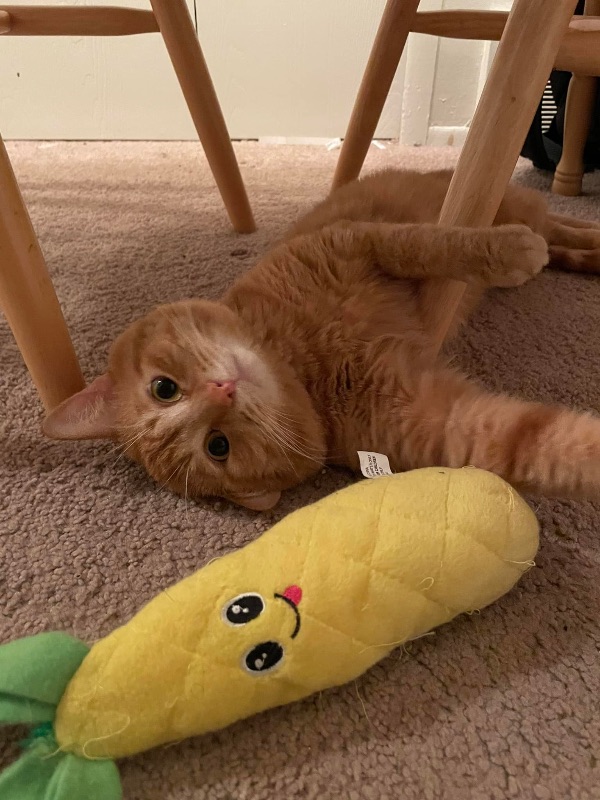 https://www.hshv.org/wp-content/uploads/formidable/105/290163858_10221775102873088_8689267284051645018_n.jpg
If you are interested in adopting Daxter, please contact Marlon at 734-626-6261, 734-646-2531 or m.anthonybird@gmail.com. This animal is listed as a courtesy on our site, but is available through this individual. For questions, please contact the individual listed, not HSHV. Thank you!