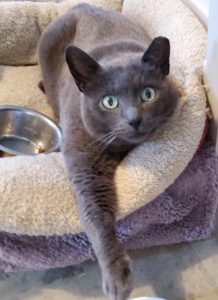 Mr. Blue the Cat
Age: 6 years
Fixed (Spayed/Neutered)? Yes
Declawed? No
Weight: 13 lbs
Indoor? Yes
Microchipped? No
City in which animal is located: Milan
Rehoming fee? Yes
Mr. Blue is very friendly. Loves to follow you around like a dog and has the appetite of one too. He has a quirky chirpy personality and loves to be petted. He currently lives in the garage and gets along with all kitties. The garage is fairly quiet with a radio playing 24/7. He is neutered, litter box trained, dewormed and goes for his boosters and wellness check on Friday, March 26. Reference and veterinary reference required if applicable.
If you are interested in adopting Mr. Blue, please contact Rosalie at 734-730-6068 or rosalieshemak@gmail.com.