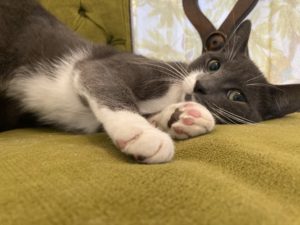 Matcha the Cat
Age: 11 mo.
Fixed (Spayed/Neutered)? Yes
Declawed? No
Weight: 6 lbs
Indoor? Yes
Microchipped? Not known
City in which animal is located: Detroit
Rehoming fee? Yes
Meet Matcha! The sweetest grey and white girl, with the most expressive white whiskers!
Ms. Matcha came to her foster mother as a curious stray kitten. Matcha is growing to become quite the cat! She is an active girl who enjoys playing with her mouse and feathered toys, leaping, and rolling on her back. When she's not making biscuits, she can be found purring in your lap and/or rolling over for more tummy rubs. Matcha is a litter box user extraordinaire and a good eater. She will let out sweet chirps if she smells chicken!
Matcha is a goofy and loving girl with a strong spirit. Because she's a people lover and does well with other cats, Matcha will be a joyous addition to an existing cat clan or first-time cat home. She is excited to meet you!
If you are interested in adopting Matcha, please contact Meghan at 616-325-0438, 616-240-6253, or meghanonak@gmail.com.