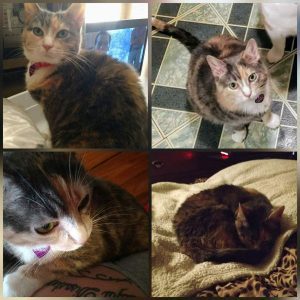 Munchkin the Cat
Age: 8 years & 3 months
Fixed (Spayed/Neutered)? Yes
Declawed? No
Weight: 11 lbs
Indoor? Yes
Microchipped? No
City in which animal is located: Canton
Rehoming fee? Yes
Last year Munchkin developed some stomach issues. After a couple vet visits and some trial and error it was determined she has IBS. Since her diagnosis we have tried multiple supplements and whatnot to no avail. The vet recommended she be placed on a special food that runs almost $50 for an 8.5# bag. Munchkin comes from a multi-cat household where they are free fed. We have tried scheduled feeding in the past and it didn't work for our household as a couple would gorge themselves and puke. Munchkin needs to be in a quiet home. If there are other pets they need to be docile as one of her current siblings bullies her and stresses her out which in turn makes the IBS worse.
If you are interested in adopting Munchkin, please contact Miranda at 313-459-8305 or lil_blue_angel_2002@yahoo.com.