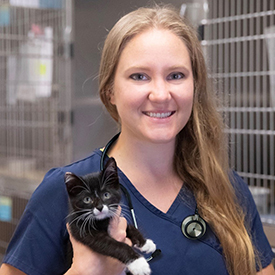 Outpatient Veterinarian
Companion Animals – Michigan State University
Dr. Milewski developed a passion for community outreach, high volume surgery, and caring for homeless animals in veterinary school. Outside of work, she mostly spends time with her three adopted dogs: Ophelia, Jilly, and Xena – and one cat , Bobbi. Her dogs love to go on day hikes, backpacking trips, and boating adventures, as well as nap on the couch when Dr. Milewski is reading. Dr. Milewski speaks fluent Polish, loves visiting her family in Poland every few years, and enjoys exploring new countries and American parks.