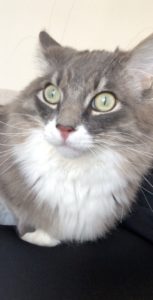 Niko the Cat
Age: 4
Fixed (Spayed/Neutered)? Yes
Declawed? Yes
Indoor? Yes
Microchipped? No
City in which animal is located: Ypsilanti
Rehoming fee? No
Niko comes from a busy home! He is a beautiful cat but he has his moments of biting when bothered but can be lovable at times. He lives at home with a kitten at the moment and does fine with other cats. I am listing this because I don't know how he'll do with kids because he does attack me at times that I'm worried he'll attack my child. I do love him and if it doesn't work out in your home you can give me a call and I will take him back. Please do not take him to a different home I would take him back and rehome him myself. Needs someone who works really well with any cat.
If you are interested in adopting Niko, please contact Hanna at 734-883-6009 or hannafurrha@gmail.com.