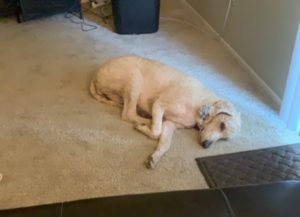 Nola the Dog
Age: 3
Fixed (Spayed/Neutered)? Yes
Weight: 76 lbs
Indoor? Yes
Microchipped? No
City in which animal is located: Ypsilanti
Rehoming fee? Yes
Please note: This is a courtesy listing on HSHV's site. This animal is available through a private individual, NOT HSHV. For questions, please contact the individual below, not HSHV. Thank you!
She lives in a very quiet home and is the biggest cuddle bug in the world. It takes her a long time to get used to strangers, but once she does she will love you. She knows many tricks like lay down, sit, shake, and touch. She loves going to the dog park and playing with dogs. Someone would want to adopt Nola if they want a loving dog. She does need training, but has the sweetest heart. She got all her shots updated the first week of July, 2021. We want to see her live the best life and we can no longer provide for her like we wish.
If you are interested in adopting Nola, please contact Johanna at 616-340-9138 or hopper1410@icloud.com. This animal is listed as a courtesy on our site, but is available through this individual. For questions, please contact the individual listed, not HSHV. Thank you!