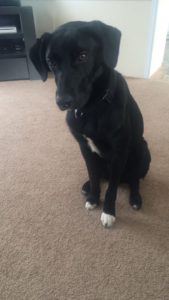 Olaf the Dog
Age: 6 years old
Fixed (Spayed/Neutered)? Yes
Indoor? Yes
Microchipped? Not known
City in which animal is located: Ypsilanti
Rehoming fee? No
Olaf is a very loving, attention-seeking dog. He needs to a home that has more land for him to run on. He currently lives in our home with one other smaller dog and they get along great. He has not been around any other type of animal. He is very timid around children and seems to like a more laid back atmosphere. He is very friendly with adult people, loves to cuddle and be with you all day. He is warm and welcoming to new people. He is very vocal. He is a very energetic and loving dog. Olaf is house trained, he prefers to sleep free range, he has never been crate trained.
If you are interested in adopting Olaf, please contact Caitlyn at 734-649-7827 or caitybug256@gmail.com.