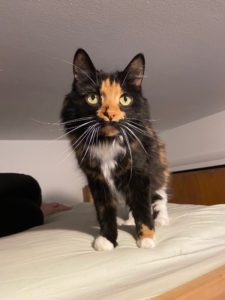 Miriam Maisel the Cat
Age: around 9 years, according to the last owners
Fixed (Spayed/Neutered)? Yes
Declawed? No
Weight: 10 lbs
Indoor? Yes
Microchipped? Not known
City in which animal is located: Ypsilanti
Rehoming fee? No
She is currently kept in a quiet home, she is easily startled by loud noises. She likes to spend her days basking in the sun atop her cat tree in front of our window. She does not do well with other cats, and I think it is very important that she is alone in the household, pet wise. She is very stressed in the presence of other animals, she hisses and grumbles away when other cats are near her and will protect herself by any means necessary. Alone however, she is very sweet and docile. She loves to be pet and cuddled on HER terms, do not force her to love because she is a feisty old lady when she wants to be. For being 9/10 years old, she loves to play with toys, especially string toys and any sort of ball she can get her hands on. She is a quiet cat, she does not meow a whole lot, only when you feed and go to pet her! She is also one of the most beautiful cats I've ever seen, I may be a bit bias but she is extremely striking and very photogenic.
It's very important to note that she does not like to be picked up nor does she like to be groomed/brushed, and again, she likes to be pet on HER terms and is easily scared so I don't think she will do great with young children in the home grabbing at her and startling her.
I love this cat a whole lot, and it will be very hard to part with her but I know she will thrive better away from my other mean cat and finally get the peace, quiet, and safety she deserves. I always imagined she would be happiest in an elderly home where she can also live out her golden years basking in the sun and demanding pets from her owner but I think she would do great with a lot of different types of owners. Someone please give my Mrs. Maisel a good home so I can rest easy knowing she's happy and being loved as much as I love her.
If you are interested in adopting Miriam Maisel, please contact Lauren at 313-595-3166 or ren.brown626@gmail.com.