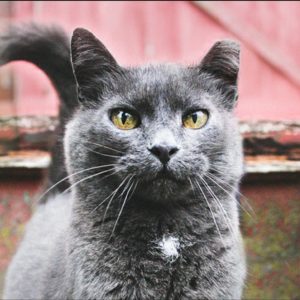 Old Grey the Cat
Age: 6-7
Fixed (Spayed/Neutered)? Yes
Declawed? No
Indoor? No
Microchipped? No
City in which animal is located: Milan
Rehoming fee? No
Old Grey is the sweetest little cat in an urgent situation. She was abandoned with her kittens by the previous tenants so we got her fixed and have been taking care of her for 2 years now. Now we're moving and don't want to leave her here behind. We've been desperately looking for a new home so she can have a stress-free transition.
We do believe she could be acclimated to being an inside cat with how friendly she is, and she will come inside to eat sometimes. She has a garage space she uses and she always uses the litterbox there. She loves to be pet and will push her head into your hand which is very endearing. Once she gets to know you, she will follow you around and even climb in your lap to take a nap!
She is an EXCELLENT mouser if you chose to keep her as a barn cat. She is somewhat feral in the sense that she doesn't like to be picked up and is overly protective of her food towards other cats. She is also uncomfortable with sudden movements and loud noises.
We would absolutely bring her with us but we have an indoor cat that doesn't like other cats. Since she has always lived outside she hasn't had great experiences with other cats and would do best in a home without other cats or dogs. If you could confidently acclimate her to a home with other pets, or if your cat is very laid back, there is a chance that she could do well in that environment.
Please help us help Old Grey! She deserves a warm, loving, safe home.
If you are interested in adopting Old Grey, please contact Kameryn at 313-378-1984 or sillyphox@gmail.com.