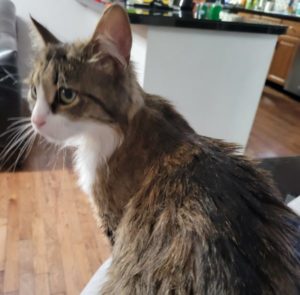 Oreo the Cat
Age: 1 year 10 months
Fixed (Spayed/Neutered)? No
Declawed? No
Indoor? Yes
Microchipped? No
City in which animal is located: Milan
Rehoming fee? No
She lives in a somewhat quiet home with all her siblings! She is not good with other animals but there might be a chance she'll leave other cats alone. She would very much prefer to be alone! She's good with people but can get irritated if you hold her for too long. She doesn't like it when you give her over the top affection. (Let's be real here no one does.) She doesn't mind the outdoors but would mostly be indoors. She sheds quite a bit so brush her. If she smacks you just know that you're irritating her. She's not aggressive towards people but she might not be good with children. Children are full of energy and Oreo does not fit well in this environment. Do not adopt Oreo if you're against the following: scratching furniture, shedding, aggressive behavior, hissing, and scratching. All these aggressive things will only be true if she's around other animals. Oreo tends to knead a lot when you hold her. So if you don't want her digging her claws into you when she's happy then do not adopt Oreo.
If you are interested in adopting Oreo, please contact Tayjiri at 734-621-3781 or kitcattaco@gmail.com.