Sandwich (Sammy) the Dog
Age: 3.5
Fixed (Spayed/Neutered)? Yes
Weight: 65 lbs
Indoor? Yes
Microchipped? Yes
City in which animal is located: Livonia
Rehoming fee? No
Please note: This is a courtesy listing on HSHV's site. This animal is available through a private individual, NOT HSHV. For questions, please contact the individual below, not HSHV. Thank you!
Sandwich (Sammy) is incredibly friendly and loves people. He is also anxious and does not like to be left alone for extended periods of time. He has a kennel we use when we leave the home or when someone arrives (so he has a moment to calm down), but he does not like it and drools profusely when he is inside it. CBD treats help some. He loves snuggling, doing tricks, and going on walks, but only if it's not raining or below about 45F. He likes chewing and eating soft plastics, so you have to be careful with kid's toys. He also has a bad habit of stealing food off of the kitchen table when people aren't looking. He has been trained with words and hand movements and is very good at his tricks, including sit (Italian hand, fingers up) lie down (point down), stay (stop, high-five), roll over (point at dog, circle movement), go to carpet (command alone or finger snap and point), jump (raise hand quickly, point up), dance (shake maracas over his head), and circle (point down, circle movement).
When someone he knows comes to visit he is ecstatic and has a hard time not jumping on them. We usually put him in his kennel for 5 min so the guest can take off shoes and jacket.
He only barks when he sees dogs walk by the home or if the neighbor's dogs are barking.
He eats things outside, usually sticks, but sometimes poop and grass, and upsets his stomach.
The easiest way to give him meds is to cover it in a ball of bread with a little peanut butter.
He gets along with dogs, but can be too high energy for some, especially those smaller than him. He is easily cowed by another dog and will likely be happiest as an only dog.
He gets along with the cat, but will chase when she tries to come downstairs. They sleep in the same room just fine. He lets her groom him and has never shown any aggression toward her by growling, etc.
He is very gentle and patient with young kids.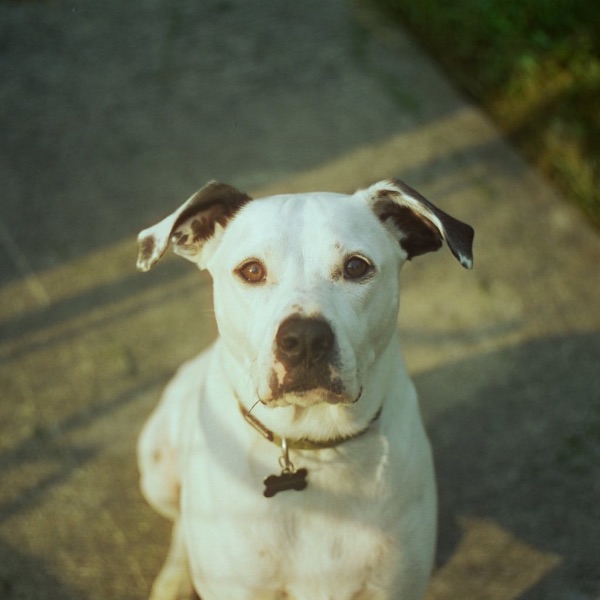 https://www.hshv.org/wp-content/uploads/formidable/105/6F4D8694-6483-4D09-88B6-0C12F3247DB2.jpeg
If you are interested in adopting Sandwich (Sammy), please contact Joshua at 360-910-1984 or hall.josh.r@gmail.com. This animal is listed as a courtesy on our site, but is available through this individual. For questions, please contact the individual listed, not HSHV. Thank you!