Romeo, MJ, Moppet, Olaf, Daisy and Belle the Cats
Age: 8-10
Fixed (Spayed/Neutered)? Yes
Declawed? No
Weight: 8 lbs
Indoor? Yes
Microchipped? No
City in which animal is located: Harper Woods
Rehoming fee? No
Please note: This is a courtesy listing on HSHV's site. This animal is available through a private individual, NOT HSHV. For questions, please contact the individual below, not HSHV. Thank you!
Romeo and MJ are bonded brothers that lived together alone in a bedroom. Both are fixed. Romeo is all white with one blue eye and one green eye. He recently had the combo test and was negative. MJ has not had the test yet; however, they were the only cats together in that room.
Olaf is a neutered male. All white!
Daisy is the white female. She is not fixed yet.
Currently working on getting pics of Belle.
Moppet is a beautiful white and orange boy. He is neutered.
The group has not had the combo test yet (except one). They have always been indoor cats, so pretty sure they are all negative but all testing, etc will be completed prior to any placement. They are semi-unsocial cats. Limited interaction with humans, just with their owner who has passed away.
Working on ages as well.
Not sure about placement with dogs because they have never been around them. They get along with other cats as they have always been around each other. Slow introduction is obviously needed for all.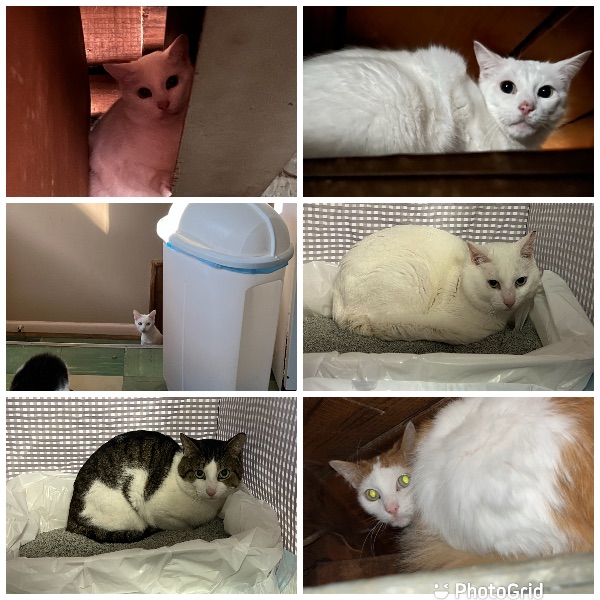 https://www.hshv.org/wp-content/uploads/formidable/105/F7A98EA8-B4FD-40C0-8914-377DA8B7DE5B.jpeg
If you are interested in adopting Romeo, MJ, Moppet, Olaf, Daisy, and/or Belle, please contact Marni at 248-505-9093 or marni924@aol.com. This animal is listed as a courtesy on our site, but is available through this individual. For questions, please contact the individual listed, not HSHV. Thank you!