Bella and Figaro the Cats
Age: 4+6
Fixed (Spayed/Neutered)? Yes
Declawed? No
Weight: 12 lbs
Indoor? Yes
Microchipped? Yes
City in which animal is located: Dundee
Rehoming fee? No
Please note: This is a courtesy listing on HSHV's site. This animal is available through a private individual, NOT HSHV. For questions, please contact the individual below, not HSHV. Thank you!
Here are 2 beautiful pedigree ragdoll cats from the same breeder but different bloodlines. Both are fixed and are calm, but playful guys. They have lots of love to give I just don't have the time to spend with them since my wife has passed. They must stay together- they are like brother and sister.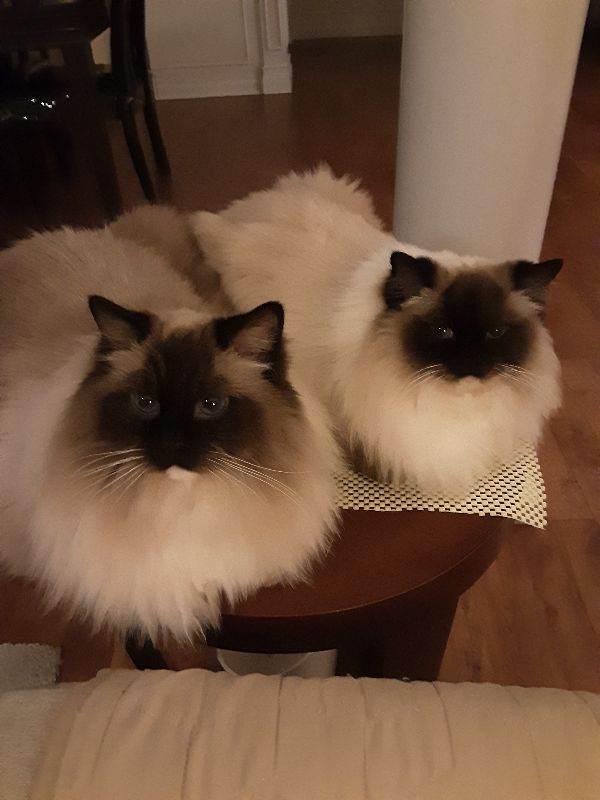 https://www.hshv.org/wp-content/uploads/formidable/105/20201123_181737.jpg
If you are interested in adopting Bella and Figaro, please contact Joseph at 419-908-1647 or joepal3of6@hotmail.com. This animal is listed as a courtesy on our site, but is available through this individual. For questions, please contact the individual listed, not HSHV. Thank you!