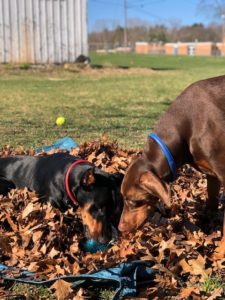 Bolo and Vixen the Dogs
Age: Bolo is 4, Vixen is 2
Fixed (Spayed/Neutered)? Yes
Indoor? Yes
Microchipped? No
City in which animal is located: Jackson, MI
Rehoming fee? No
Bolo is a very smart, friendly and active 4-year-old doberman. He loves attention and meeting new people. Great with kids, cats and other dogs and thrives in a busy environment. Will need a big yard to run around in.
Comes as part of a package deal with our second dog vixen, a 2-year-old female doberman. She is also great with kids and other dogs but is a little on the shyer side. Once she warms up to you she will be your best friend and never leave your side. She did have a leg amputated earlier this year as a result of a knee surgery that had complications, but she gets around just fine! Just needs a little help getting into the car.
If you are interested in adopting Bolo and Vixen, please contact Free at 734-358-7473 or dpcrazydaisy@gmail.com.