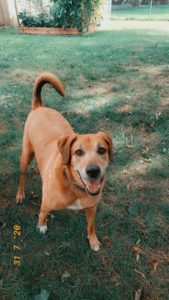 Milo the Dog
Age: 7 years old
Fixed (Spayed/Neutered)? Yes
Weight: 105 lbs
Indoor? Yes
Microchipped? No
City in which animal is located: Farmington Hills
Rehoming fee? No
Milo is a very loving dog. He currently lives in a busy home, myself and my one-year-old daughter plus my parents and their dog. He gets along with other dogs but prefers to be the ONLY dog! I think he would be the perfect dog for a couple who plans on not having any kids. My daughter LOVES him, he just makes me nervous sometimes. This is very hard for me because he has been there for me since day one but I need him to be in a home that will give him way more attention then I can.
If you are interested in adopting Milo, please contact Katelyn at 248-752-8263 or katiekelly610@gmail.com.