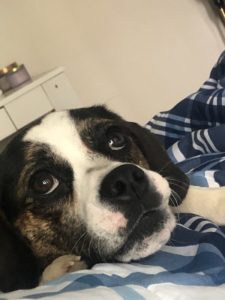 Eevee the Dog
Age: 1.5yrs old
Fixed (Spayed/Neutered)? Yes
Weight: 30 lbs
Indoor? Yes
Microchipped? Yes
City in which animal is located: Ann Arbor
Rehoming fee? No
Please note: This is a courtesy listing on HSHV's site. This animal is available through a private individual, NOT HSHV. For questions, please contact the individual below, not HSHV. Thank you!
This is Eevee. She is a mix between a beagle, pug, and bulldog. We are not asking for any kind of rehoming fee but instead just want her to be with someone who will love her more than we can. We've had her for about half a year now and we've recently had a baby about three months ago. We initially thought we could continue to care for her but with being first time parents we all feel super guilty not giving her the attention she deserves. Now she's not perfect, just like many dogs I'm sure, she will chew pillows and any other loose items if left alone for too long. We've had her in our apartment for some time and we take her for walks, for the most part she uses the bathroom outside, but will go inside if not given an outlet. She has all of her shots and vaccinations up to date with proof. She has a cage and plenty of toys.
She would do best in homes with children over 6 years old, and with other dogs. I recommend having a backyard or taking her to the dog park often. She hasn't met anybody she didn't instantly love. She is medium energetic, very playful, and loves to cuddle.
She's been an amazing addition to the family in the time that we've had her but we also know that she deserves more love and care than we can provide at this time in our lives.
If you are interested in adding this beautiful girl to your family or have more questions, feel free to reach out.
Thank you.
If you are interested in adopting Eevee, please contact Donavan at 559-304-9942 or djgarc9066@gmail.com. This animal is listed as a courtesy on our site, but is available through this individual. For questions, please contact the individual listed, not HSHV. Thank you!