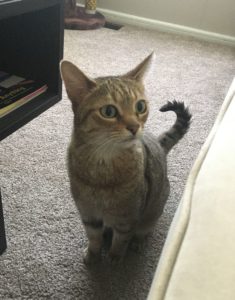 Precious the Cat
Age: 8
Fixed (Spayed/Neutered)? Yes
Declawed? No
Weight: 9 lbs
Indoor? Yes
Microchipped? No
City in which animal is located: Southfield
Rehoming fee? No
Our home is fairly normal, as far as noise and business. I do work on things, from time to time, and Precious seems to do fine. If anything she just finds somewhere to hide.
She is a very well behaved and sweet cat. Her temperament is fairly independent, very cuddly, but is a bit shy, as comes with the territory of an Abyssinian breed (mixed with something else). It seems she will pick one person that she will trust more than others if in a home with several people (i.e. her "got-to" person). As far as friendliness, she is extremely friendly – she is not aggressive at all and would be completely fine with children, dogs and other cats (with time, from what I can tell). She is healthy, up-to-date on shots/vaccines and is spayed; however she does still have all her claws (we couldn't come to remove them from her).
She would be a great companion to anyone that wants a low-maintenance pet, but she will also show affection through cuddling and being combed (which she loves as a pampering treat and will reciprocate her pleasure with soft purrs and rubbing/hugging you).
If you are interested in adopting Precious, please contact Patrick at 586-381-0495 or mtstang376@gmail.com.