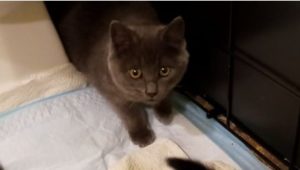 Pula (pronounced Pool Ah) the Cat
Age: 7-8 Weeks
Fixed (Spayed/Neutered)? No
Declawed? No
Weight: 2 lbs
Indoor? Yes
Microchipped? No
City in which animal is located: Near Ann Arbor
Rehoming fee? Yes
PULA is named after a sweet dessert of braided bread that is dusted with sugar. She has a dusting of sugar on her shoulder and the rest is black. She is on the petite size but adorable. She's very frisky, and climbs up on counters, and thought my leg was a tree until we did some retraining. She has not been around dogs but could adapt as long as there is supervision andthe  dog is not aggressive or sees kitten as target. She would enjoy a companion maybe her sister or brother. Children okay if parents supervise with little ones. School age are fine. Adoption form is required and spay or neuter at appropriate age is required.
If you are interested in adopting Pula, please contact Deborah at 734-717-9447 or Mitchigin@hotmail.com.