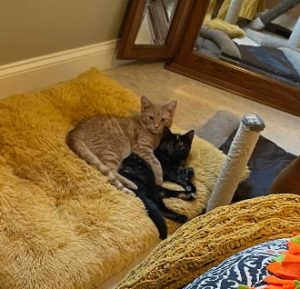 Tweed & Corduroy (Roy) the Cat
Age: 5-6 months
Fixed (Spayed/Neutered)? Will be soon!
Declawed? No
Indoor? Yes
Microchipped? No
City in which animal is located: Whitmore Lake
Rehoming fee? Yes
Please note: This is a courtesy listing on HSHV's site. This animal is available through a private individual, NOT HSHV. For questions, please contact the individual below, not HSHV. Thank you!
They were about 3-4 months old when we caught them and I figured we'd trying socializing them instead of putting them back on the farm. Both had upper respiratory viruses, but the tortoise colored one was more visibly sick. Her condition made her more vulnerable and accepting of our care. She's been a sweetheart since the 2nd day with us. She's very loving, playful and cuddly. You'd never guess that she grew up without any human interaction. She's so well-adjusted and 'normal!'
Her brother on the other hand wanted absolutely nothing to do with us for about 2 weeks. We couldn't even touch him! But I kept them in a bathroom so that he didn't have anywhere to run and hide. After watching his sister get all the love for a couple of weeks, he finally let me pet him. He had obviously never been handled before so each week I'd try something new like picking him up or putting him in my lap. I can currently pick him up without resistance, hold him to my chest, and kiss his head. He loves playtime, belly rubs, chasing after the pointer on my laptop, and cuddles with his sister. He's friendly with my other cats as well and loves my kids. He's still a little shy if a bunch of us go down to the basement at once. But once he knows it's safe, he'll come out. Both cats now have full control of my furnished basement. They are completely litter trained (have never had an accident). Because of their age, I will be sterilizing them next week.
Both Tweed and Roy are amazing kitties! Roy has come so far and made such a major transformation that he deserves to find a great home. I'd never rehome him if I didn't believe that he'd be a loving and social member of a family. Just to be clear, Tweed (tortoise colored) is female and Roy is male. Tweed continues to show Roy the ropes so I will not separate them.
If you are interested in adopting Tweed & Corduroy (Roy), please contact Jennifer at 954-260-3902 or mocha3230@gmail.com. This animal is listed as a courtesy on our site, but is available through this individual. For questions, please contact the individual listed, not HSHV. Thank you!