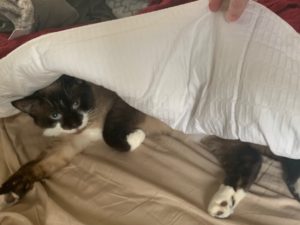 King George the Cat
Age: 1.5 YRS
Fixed (Spayed/Neutered)? Yes
Declawed? No
Weight: 6 lbs
Indoor? Yes
Microchipped? Yes
City in which animal is located: Whitmore Lake
Rehoming fee? Yes
We have a relatively busy home (3 kids, 1 Doberman, 2 cats). I can't say that King George loves all the activity. He's probably best suited for a home with no kids under 10. He dominates my Doberman one minute and in the next, cuddles up to her. He loves my female cats. One gives him nothing back and the other (the really unfriendly female) has begun to play with him daily. King George is a beautiful cat that wants to sleep with his person every night. He has a very cool voice and loves to use it first thing in the morning. He also loves to attack my toes (only while covered with blankets). He listens very well and is currently being trained to not play too hard with his claws and teeth. Once he hears the word 'no' he adjusts his behavior.. King George has a long, full life ahead of him. He seemed to have a rough start but you'd never know it looking at him. I recently went out of town for two weeks and was so worried about him regressing. The house sitter said that he didn't engage much with her. When I came home and called his name, he greeted me much like a dog would. Licks and head butts! He couldn't get enough attention and stayed next to me for hours. He will make a great pet for the right person.
If you are interested in adopting King George, please contact Jennifer at 954-260-3902 or mocha3230@gmail.com.