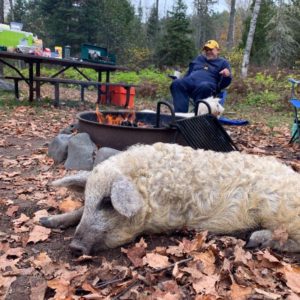 Ida the Pig
Fixed (Spayed/Neutered)? No
Weight: 63 lbs
Indoor? Yes
Microchipped? No
City in which animal is located: Mount Pleasant
Rehoming fee? Yes
Please note: This is a courtesy listing on HSHV's site. This animal is available through a private individual, NOT HSHV. For questions, please contact the individual below, not HSHV. Thank you!
Ida is wonderful with dogs, cats and small people. She is harness trained, sits and potty trained in the house. She mostly stays busy outside rooting and remains close to her 'pack'. She is able to 'kennel' and expects to spend time in her kennel while I am at work. She is a heritage breed, meaning her breed is full Mangalitsa. You can expect her to stay within the breed standards (100-200lbs females; she is not crossed, a common issue in pig rearing). She is affectionate, an attention-getter and excellent companion. She goes for car rides, camping, hiking and loves long walks with her team. She is a 'wooly' pig, her hair is longer than usual and her breed is specific for high mountain/ cold regions. It is my preference she remain a pet.
If you are interested in adopting Ida, please contact Katherine at 970-274-2453 or katherine.hadar@gmail.com. This animal is listed as a courtesy on our site, but is available through this individual. For questions, please contact the individual listed, not HSHV. Thank you!