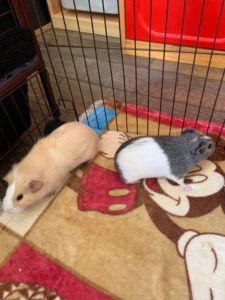 Luna and Latte the Guinea Pigs
Age: 6 months
Fixed (Spayed/Neutered)? No
Indoor? Yes
Microchipped? No
City in which animal is located: Ypsilanti
Rehoming fee? Yes
Looking to rehome 2 spunky, classic American guinea pigs. They are sisters and are about 6 months old. Luna and Latte are both sweethearts but aren't huge fans of being picked up. Luna, the grey one, is super sweet and loves to be pet as long as she's safe in her lap pouch but Latte, not as much. She is harder to catch but once in the pouch she's receptive to rubs. Neither have shown any aggressive tendencies and in fact, love visits from my cats. They are not easily handled by my children with the exception of the 15 year old. My others are 9 and 12. I wouldn't recommend that these ladies go to a home with super young kids. If you'd like any further info, just ask. They've lived a great life so far in a pretty big rabbit cage with a fenced in playpen.
If you are interested in adopting Luna and Latte, please contact Jennifer at 954-260-3902, 734-834-8902, or mocha3230@gmail.com.