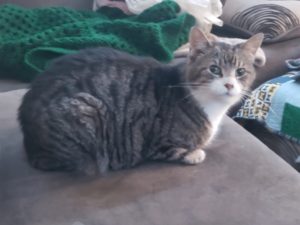 Sassy the Cat
Age: 8
Fixed (Spayed/Neutered)? Yes
Declawed? No
Weight: 12 lbs
Indoor? Yes
Microchipped? Not known
City in which animal is located: Ypsilanti
Rehoming fee? No
Loves to greet people by brushing against your leg. Loves to be pet but hates being picked up. He has a quiet cute voice when he meows.
If you are interested in adopting Sassy, please contact Taylor at 734-329-3497 or taylorbeyer85@gmail.com.